Hello everyone!
In this thread, you may post screenshots of the various games you play and perhaps comment on the background, or even write stories of your misadventures.
Artistic views are encouraged, but keep it decent.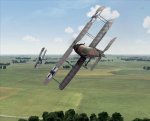 This one's from Rise of Flight. I'm piloting the Halberstadt D.II in an attempt to down a Nieuport 17.
If you were still wondering, I really like WWI aviation.