Well, I'm here to show you my work-in-progress WWII Jeep! This would be my 4th project (I did a Windmill with animation, a log cabin, and currently working as well on a guitar Gibson SG!). I wanted to do something simple related to WWII. I wanted it to be relatively good and realistic seeing that it's my fourth project. As I started the project I realized that it is not easy at all. It takes a long time to do every single piece of shitty part!
This dawned on me on how much the guys here at TW have so much ****ing skill and patience!! Now I understand why they take so much time, I mean, after a time it just gets boring or tiresome, or you rage quite because it's not working like you want to!
Anyways, on to the pictures! (I know that the resolution is low, same as the size, but ATM there's not much to see anyways!
)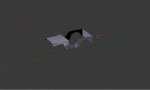 (The wheel in the "trunk" looks small because it's in the back in the picture... it's actually the same size as the others.
A rack will be added so it doesn't float!
​
Remember, I just started (took me maybe 5-6 hours to do that hahaha, I like to take my time!), so all constructive criticisms, tips and comments are welcomed! Still have to add more details and then onto the paint job!