Director/Founder
Pathfinder Games
Introduction
Over the past months we have continued our hard work on v0.6 which will add Canadian Forces, the new map Carpiquet Airport, in-game map, leader boards and numerous tweaks, changes and balance improvements.
v0.6 Preview Community Testing
Our successful community testing goes on and we would like to thank everyone in the community who has participated in the tests to date and provided us with your feedback on the pre-release preview of the update.
The next community test is scheduled for:
Sunday 5th
Saturday 4th April @ 20:00 GMT.
You can sign-up by
clicking here
and find instructions on how to download the 0.6 version via steam on our in the announcements channel of our
discord server
or by
clicking here
to go straight to the announcement post.
Anyone is welcome to join in the fun to help us balance and bug fix ahead of the release and free weekend.
The
planned free weekend
must be a stable and smooth experience for new and existing players to have maximum impact. For this reason we have not yet fixed a date for the event as we have known bugs to squash and feedback to address first.
As soon as we have fixed the date for the event we will announce it to the community and make a big push on marketing and raising awareness of the upcoming free weekend to reach as many new players as possible.
Behind-the-Scenes
The new map, Carpiquet Airport introduces Canadian Forces for the first time and we have been making major changes to the map, particularly inside the boundaries of the airfield itself.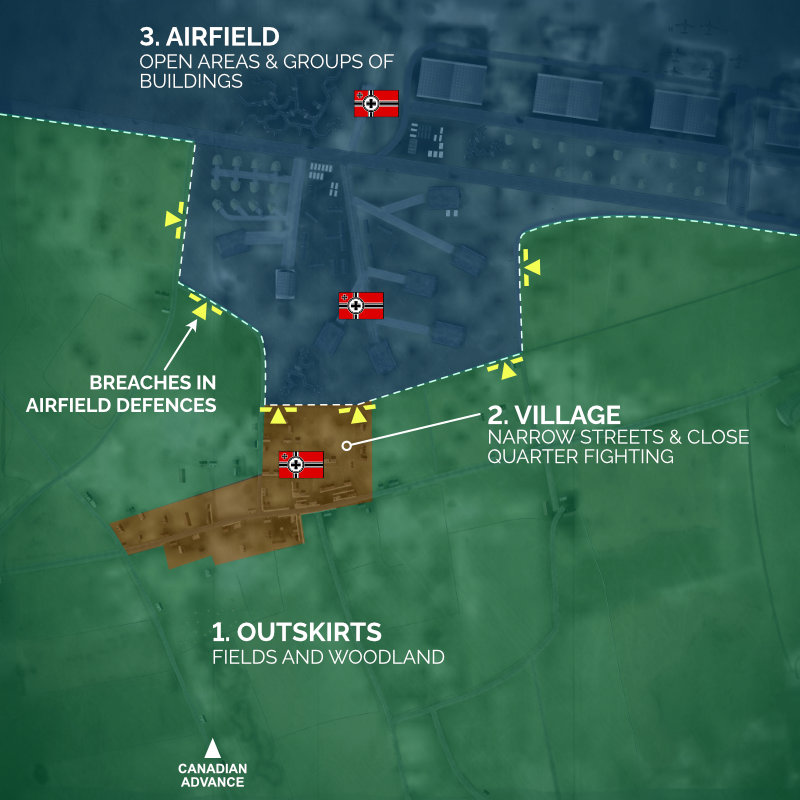 Overview of Carpiquet Airport
​
The new map offers a range of different environments as the operation progresses, from wide open countryside to the confines of house-to-house fighting and into the airfield itself with a mixture of open spaces and tighter areas which leave plenty of space for different tactics and angles of advance.
In addition to the new map we have also continued to refine and improve the previously announced features including the new tactical map, spectator camera for streamers and all important stability and bug fixes. They aren't as exciting as new features and maps but important for the overall experience.
How can you help?
Our community translators have been doing an amazing job of translating the game into Simplified Chinese, Russian, Dutch, Portuguese, Italian, Polish and Finnish. These are in addition to English, French, Spanish, German, Norwegian & Swedish which we already supported.
If you would like to help the team and community with translations for any of the above languages or any other languages we would love to hear from you by joining our
#localisation channel
on our public discord (
discord.gg/vanguardww2
)
Last edited: