Im guessing my attempt on the brencarrier/universalcarrier.
Yes I know it's in sketchup but I find it to be extreamly easy and I can allways post it over to Maya and do the endwork.
The body is done and I have started on some of the details. How ever I have no idea what so ever on the tracks and texture.
Oooh well Im guessing I will come to that point sooner or later. Iv only been at it on and off for 2 days. ^^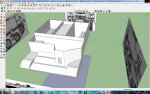 Last edited: